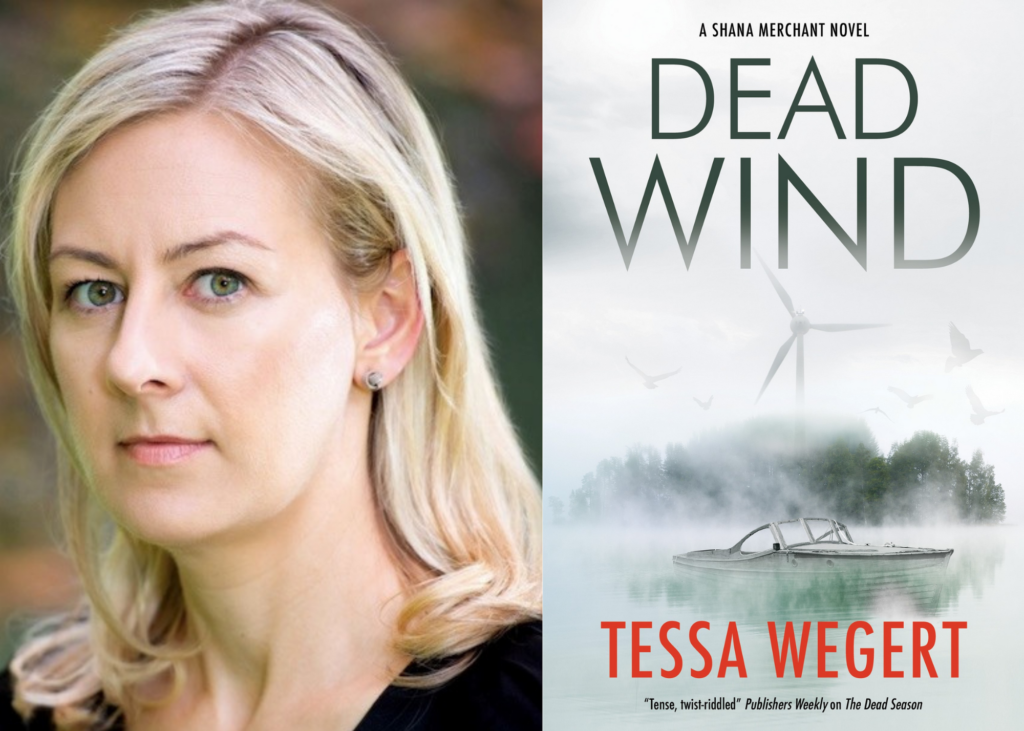 Interview with Tessa Wegert
Tessa Wegert lives in my town, and I had the pleasure of meeting her recently. Over coffee, we talked about the writing life–and when I got home I immediately ordered Death in the Family, the first book in her detective series set in the Thousand Islands, NY. It's a page-turner; I devoured it in a weekend. So, if you like your mysteries cozy with a twist of darkness, you should treat yourself to this series. The third book launches March 1. Here's Tessa talking about her writing process:
When did you start writing fiction, and why?
I started writing fiction as a child, but I didn't actually attempt to write a novel until I was in my thirties. I'd been working as an ad copywriter and freelance journalist for many years by then, and somewhere along the way all that writing crowded out the fiction. When I had my second child, I realized I needed a creative outlet, and fiction was something I could explore in my downtime. I plotted while walking the kids around Chicago, where I lived at the time, and got up an hour before them the next day to get my ideas on paper. It took about a year to complete my first book, and I've been writing novels ever since.
Did you sell the first book you ever wrote? If not, why not—and what did you learn from writing it?
Not only did I not sell my first book, but I didn't sell my second, or third, or fourth! I started out writing bio-thrillers with a speculative fiction bent, and there wasn't much of a market for them at the time. But that first book got me my literary agent, and the books that followed allowed me to practice the craft. They also made me realize that I was most passionate about mysteries — every book I'd written had a mystery component to it — and that ultimately led me to write Death in the Family.

You're writing a police procedural series but I believe the first book was initially going to be a stand-alone. How did you navigate the leap from stand-alone to series, and did it require overhauling Book One in any way?
Yes that's true, I wrote Death in the Family as a standalone and a kind of homage to Agatha Christie's And Then There Were None. When my editor made an offer on the book, she asked if I might be willing to kick off a series. I think the answer to that question is pretty much always yes. She had a good eye, because the book didn't require much revision work at all…the ending became the beginning of Book 2 (The Dead Season), and I wrote a new ending for Death in the Family that left a few questions unanswered.
What is your advice to writers as they approach a series? Technically, what do they need to remember about the art and craft of series versus stand-alone?
There are numerous approaches to writing a series, and some are more linear than others, but as a reader, I like a series that creates a whole universe of recurring characters and backstories rather than simply plunking the protagonist into a new adventure. That's what I've tried to do with the Shana Merchant series. Every book features a new mystery, but it also delves deeper into protagonist Shana Merchant's backstory and relationship with serial murderer Blake Bram, whose storyline extends throughout the series. It's important to give readers as many reasons as possible to keep coming back, and leaving a few hanging threads that can be snatched up in later books is a good way to maintain interest.

What's your top tip for writing mystery/suspense? How do you make a novel a page-turner?

I would say my top tips are to start chapters mid-action and end each one with a mini cliffhanger. This strategy tends to work especially well with crime fiction and mysteries, because each chapter should be revealing a little more about the crime and putting downward pressure on the detective and suspects.

What is your writing routine—do you write a certain number of words or for a certain number of hours? Are you strict or very flexible in your approach?
I wish I could say I have a tried-and-true routine, but honestly, I fit the words in whenever I can — so I guess you'd say I'm very flexible in that respect! When I'm approaching a deadline, there are periods of time when I'll force myself to get 3,000-4,000 words down a day, or make it through thirty pages of revisions no matter what, but the rest of the time I aim for 1,000-2,000 words daily, though that doesn't always go as planned. I don't think it helps writers to put too much pressure on themselves to be uber-productive every day without fail. We have lives, after all. I always try to remind myself that the writing process isn't limited to that window of time when I'm actively typing. I often find that stepping away is just what I need to patch a plot hole or figure out where the story should go next.

How do you handle plotting? Do you use outlines and if so, what kind?
Now that I have a book contract and people relying on me to meet it, I always write an outline that sketches out the major plot points and main purpose of every chapter. That wasn't the case when I first started out, but I've found that it helps to keep me on track, even though I'm notorious for making major changes as I write.

If you were to give writers one 'rule', what would it be?
That's an easy one: never give up. It took me years to get an offer on one of my books, but I'm about to turn in the fourth in the series. I can't tell you how many times I've wanted to trash an unwieldy chapter only to discover it could be saved by a few hours of hard work. Writing can be absolute torture sometimes, but the emotional and intellectual payoff is huge if you're willing to stick it out.

What books are on your bedside table right now?
There are quite a few: Erin Young's police procedural The Fields, Lucy Foley's recently released The Paris Apartment, and An Imperfect Plan, a debut thriller by writing duo Addison McKnight that will release in May. I also read a lot of ebooks, and am lucky to have an advance copy of Canadian psychological thriller author Samantha M. Bailey's Watch Out For Her on my phone right now.