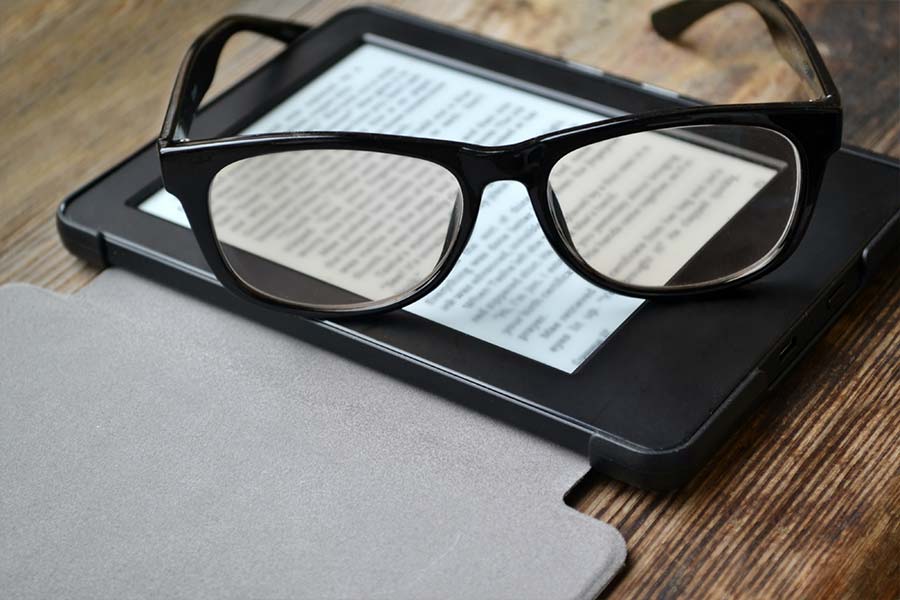 Kindle: The Book to End All Books?
I asked for a Kindle for my birthday. Not because I want to purge my shelves of the clutter and dust of physical books. Not because I have a long commute and want to know for sure that I'll never be without reading material. Not because I love gadgets and had to lay my hands on this one.
No. Because I want to know my enemy.
I mean, I'm a writer, and from what I've been reading on the Web, the Kindle and other e-readers are going to turn writers into volunteers rather than professionals. There will be no money to be made in writing anymore, because e-publishers will offer writers such tiny advances–if they offer any at all–that writing simply won't be a viable way to make a living (except in the case of a chosen few, who are already such recognizable brands–think Stephen King–that they will be able to self-publish at the click of a mouse, thereby increasing their own profit margins immensely.)
E-publishers will recompense writers poorly not because they are exploitative, but because they themselves will be battling to keep the wolf from the door. You see, to make e-publishing take off they'll have to discount their e-books so deeply that, even taking into account the lack of printing costs, their own margins will become so thin as to be almost non existent. As for brick-and-mortar bookstores, they'll go the same way record stores went.
Remember record stores?
With no store fronts to show off new titles, e-publishers (and almost all publishers will now be electronic) will have to get the word out about 'big' books in other ways. They'll have to spend money on Internet advertising, obviously, but they will also need to develop alternative strategies to attract readers. Most are already developing these strategies. New communities of readers in every genre will spring up on-line. Publishers will hire people whose only job will be to blog and chat on-line, talking up one title or another. Book trailers will become a thriving new business, and an art form in themselves. Teaser podcasts (one chapter only) will pop up all over the place. Some writers will try to sell their product directly to the market, cutting out all middle men. Most will fail, of course, but a few will create dazzlingly successful careers.
And where will this leave me and my writer friends whose names are not yet brands? I'm not really sure. Maybe small advances will be okay, because maybe we'll be receiving big royalties. After all, it's so much easier to buy a book when all you have to do is click a button with your thumb.
Think about it. Buying a real book means getting into a car. Driving to a store. Spending time selecting from a host of covers. Standing in line at the check-out. Pulling out the cash or credit card and handing over a good chunk of money, possibly as much as $25 for a hardback. Then driving home. It takes a major commitment of time and effort before we even get to the cash price of the whole exercise.
Buying a paper-and-ink book online involves spending even more, because you have to stump up for shipping and handling. And then there's the lengthy wait until the book lands in your mailbox.
But buying a book from Kindle is perilously easy. You're slouched in bed late at night eating Halloween candy, and suddenly you have an urge to read the latest cozy chain-saw killer thriller.
No problem! You just click over to the 'store', find the book you want, select 'Buy' and click the button. That button doesn't even make a sound. The whole thing is effortless. Seconds later… ta da! Instant gratification. You're deep in the woods with the crazy chain-saw serial killer.
You don't even have to enter those pesky credit card details over and over again; that very first time, when you buy the actual Kindle, is enough. All future transactions just go onto your card with barely a blip. You hardly even know you're spending money! Of course, you'll see those transactions again at the end of the month on your credit card bill, but the books are so darn cheap, what does it matter? I mean, four or five dollars a pop, who cares? Right?
Of course, they do add up.
But still. Maybe people will start buying books like chewing gum, without a second thought. I mean, a book is no longer a big commitment. You don't have to find a space for it in your house. You don't have to pack it up in a box when you move. You don't have to display it as evidence of your reading tastes, or hide it away somewhere in shame. All the books you own, now, are intangible. Nothing to show for them at all, just the plain leather binder of your Kindle.
So maybe the volume of books sold will soar, and this alone will be enough to allow writers to generate sufficient income to keep at it. After all, writers and artists are traditionally the starving classes, aren't they?
On the whole, I'd like to believe that the advent of Kindle and other e-books won't entirely kill off writing as a profession. Quite possibly, electronic publishing will spawn a huge amateur writer class, who will e-publish at will, with no gate-keepers to keep out works that don't seem commercially viable. But will any of us be able to make a living at it anymore? Let's wait and see.